Event Registration - The WIT Network
India Members Event: Fireside Chat: Men As Allies
4/21/20219:00 AM - 10:00 AM
Fireside Chat: Men As Allies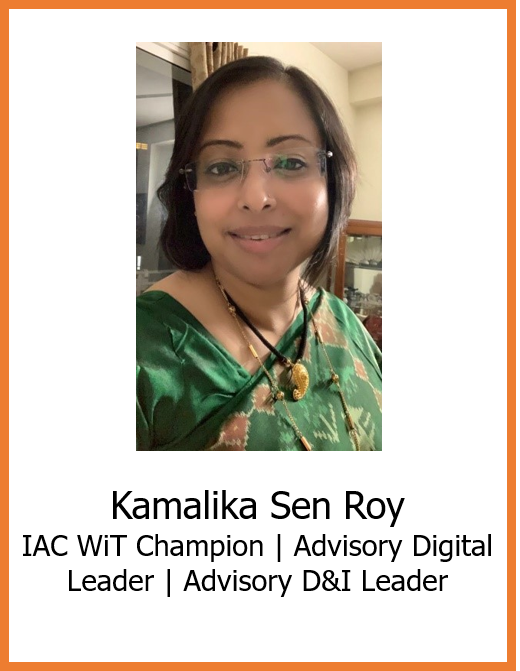 In this candid fireside chat, Kamalika will engage in a conversation with Rajesh to identify areas in which organizations can become more inclusive, action points for individuals to help organizations be more inclusive and finally how can the gender gap be neutralized. They will talk about how can men be allies?

Kamalika is a mother to a 5 year old, a technology risk expert and an avid traveler who relives her journeys through the cuisine she eats and spices she brings back home.
An alumnus of the London School of Economics, University of London and an old timer with PwC, she attributes her vast experience that she was able to gather while working for the organization globally. Currently, she leads the Risk Consulting business and is responsible for managing the Diversity & Inclusion and Women in Technology programs for the PwC Kolkata Acceleration Centre.
When not in front of a screen, she can be found attending to her garden or planning the next wildlife trip with her daughter. She believes early exposure to animals allows one to both remove fear and grow respect for every being.
Rajesh is a 6th-time entrepreneur. Three of the 6 have gone on to become the No.1 in the Industry – Head Held High, 1Bridge, and Iron Lady.He supports organizations in harnessing the power of Women's Leadership.

Iron Lady runs high-impact Business Leadership Programs for Women based on Art-of-Winning, B-HAG approach, and Strength-Based Excellence Approach.

Over the past 15+ years, Iron Lady has supported many of the Fortune 100 companies by enabling their women leaders to reach the top.

He has been interviewed by famous personalities like Amitabh Bachhan and others to share his work and vision. CNN awarded him "The Real Heroes of India" for his work on women empowerment and social impact. Rajesh is passionate about Women Empowerment & Leadership, Entrepreneurship, and making an impact in people's life. He loves reading and engaging with business leaders to discuss ideas about women's leadership in corporates.

Come join us and connect in conversation with Kamalika and Rajesh as they share their views on —
How can women become champions of change?

How can men be allies?

How organizations can become inclusive?
​
Wednesday, April 21, 2021
9:00 a.m. – 10:00 p.m. EST | 6:00-7:00 am PST | 15:00 - 16:00 IST
Location: Virtual